Junior Member
Join Date: Aug 2010
Posts: 2
Dodge Nitro SXT Load N Go Conversion
---
Hello all Nitro Owners:
I am looking a purchasing a Nitro SXT that does not have the Load N Go option. Does anyone know if it is possible to convert it to Load N Go by possibly getting this application out of an SLT version at maybe an Auto Salvage. Thanks.
Quote:
There are two cargo floor configurations: a reversible load floor standard on Dodge Nitro SXT and Load 'N Go cargo floor standard on the SLT and R/T. The Load 'N Go is a heavy-duty tray on wheels that you can load gear on to and then slide into the cargo area.
More to follow..
Well Candyman the Salvage Yard looks like the way to go since I found no Mopar Kit. I looked for an install but only found the below that must be for the Load Floor like you have to uninstall and remove. The only question would be if any brackets or tracks would have to be spot-welded. I suggest you visit your local job and see what it would take to swap one out. If you do please post what you find to help other members here. THANKS and Good Luck!
[IMG]
[/IMG]
[IMG]
[/IMG]
---
Rick

Nitro Year: 2007 (1 of 91,815 sold in 07)
Nitro Model: R/T 4X4 Stone White
CAT-BACK Exhaust, CAI, Projector Head Lamps
Fully-Equipped w/all factory options
Junior Member
Join Date: Aug 2010
Posts: 2
SXT Load N Go Conversion
---
Thanks for the Reply Rick. Appreciate the information.

However, what I am wondering is if a person could possibly take a Load N Go Cargo Floor out of say a wrecked SLT or RT and install it in an SXT after the standard SXT reversible load floor is removed. It appears that the overall frame of the body under either of the types of floor are the same, but am not sure. Was wondering if anyone had ever done thie. Thanks.
Dodge Nitro with Load N Go
---
Rick

Nitro Year: 2007 (1 of 91,815 sold in 07)
Nitro Model: R/T 4X4 Stone White
CAT-BACK Exhaust, CAI, Projector Head Lamps
Fully-Equipped w/all factory options
The way I look at this, anything is possible. It is my best guess that one could replace the reversible load floor with the sliding floor, if all of the respective parts were available, such as from a salvage yard.
A good example of this is the Jeep Commander. Initially, all were built with three row seating, but I believe in 2008 or 2009, they built some without the third row. On the Commander forum, some members did not want the third row, and took them out. Some members without the third row from the factory wanted the third row. All of the mounting brackets, bolt holes, etc. were there, so all they had to do was obtain a set of seats and install them.
---
2011 Nitro Heat 4x4: Bright Silver Metallic, Dark Slate Gray; Customer Preferred Package 24C; Trailer Tow Group; Hood-to-Fender Stripes; Navus 2; Uconnect.
MODS: Sunroof; S/S Nerf Bars; Mopar CAI, Pedal Kit, Chrome Rear License Plate Brow, Chrome Exterior Package, Production Style Cross Bars, Deluxe Molded Splash Guards, Cargo Security Cover, Door Sills & 3.7L Emblem; Media Center 430; Kicker Speakers, Sub and Amps; Carbon Fiber Dash Kits; Heated Katzkin Leather.
Dodge Nitro: Cargo area features
---
Dodge Nitro: Cargo area features (NOT "Load N Go ")
Cargo Light
The cargo area light is activated by opening the liftgate, opening any door, or by rotating the dimmer control on the multifunction lever to the extreme top position.

Cargo Tie-Down Hooks
The tie-downs located on the cargo area floor should be used to safely secure loads when the vehicle is moving.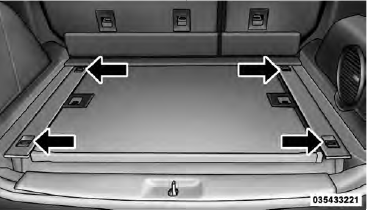 Cargo Tie-Downs
WARNING:
Cargo tie-down hooks are not safe anchors for a child seat tether strap. In a sudden stop or collision a hook could pull loose and allow the child seat to come loose. A child could be badly injured. Use only the anchors provided for child seat tethers.

WARNING:
The weight and position of cargo and passengers can change the vehicle center of gravity and vehicle handling. To avoid loss of control resulting in personal injury, follow these guidelines for loading your vehicle:
• Do not carry loads which exceed the load limits described on the label attached to the left door or left door center pillar.
• Always place cargo evenly on the cargo floor. Put heavier objects as low and as far forward as possible.
• Place as much cargo as possible in front of the rear axle. Too much weight or improperly placed weight over or behind the rear axle can cause the vehicle to sway.
• Do not pile luggage or cargo higher than the top of the seatback. This could impair visibility or become a dangerous projectile in a sudden stop or collision.
• To help protect against personal injury, passengers should not be seated in the rear cargo area. The rear cargo space is intended for load carrying purposes only, not for passengers, who should sit in seats and use seat belts.

Cargo Load Floor
The panel in the load floor is reversible for added utility. One side features a plastic lined tray which can hold a variety of items. The maximum load capacity of the load floor is 400 lbs (181 kg). The cargo load floor is held by spring loaded latches. In order to use the cargo load floor, use the following procedure: 1. Push both side mounted release handles (toward the center of the vehicle) at the same time to release cover.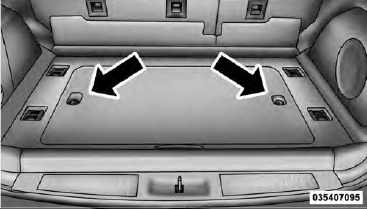 Floor Panel
2. Lift the cover. 3. Flip the cover over, and lock panel back into position.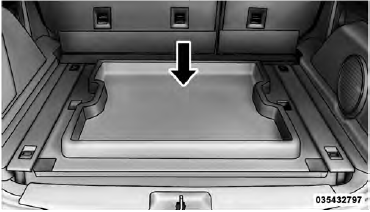 ---
Rick

Nitro Year: 2007 (1 of 91,815 sold in 07)
Nitro Model: R/T 4X4 Stone White
CAT-BACK Exhaust, CAI, Projector Head Lamps
Fully-Equipped w/all factory options
Currently Active Users Viewing This Thread: 1

(0 members and 1 guests)