Jeep, Chrysler Workers Awarded Nearly $15K Each in Profit-Sharing Scheme
2/23/22
More than 40,000 employees of automaker Stellantis will receive profit-sharing checks worth up to $14,670 before taxes in March.
Workers represented by the United Auto Workers (UAW) union are set to receive the payouts after the company announced its strong earnings for 2021, its first year after it was formed from the merger of Fiat Chrysler Automobiles and PSA Group, on Wednesday.
According to the company, the $14,670 amount, based on the company's 2021 earnings in the North America region, is the largest profit-sharing payout for workers that Stellantis or its predecessors have announced in 35 years, and a benefit of the removal of a profit-sharing maximum of $12,000 in the 2019 contract.
About 43,000 Stellantis workers are eligible for the payouts, a Stellantis spokesperson confirmed in an email to
Newsweek
, but the actual amount they receive will depend on the hours they worked. They are expected to receive the payouts in their March 11 paycheck.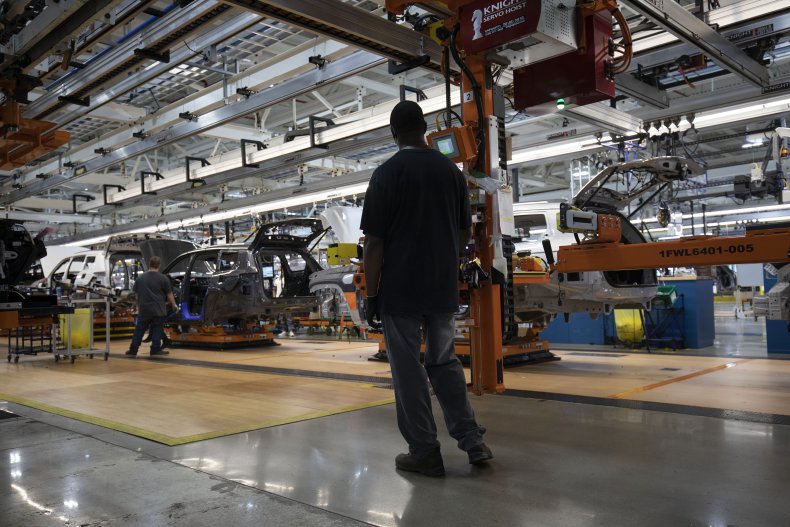 Jeep Grand Cherokee Ls go through assembly at the Stellantis Detroit Assembly Complex-Mack on June 10, 2021 in Detroit, Michigan Bill Pugliano/Getty Images
"Today's announcement that eligible UAW Stellantis members will receive an eligible profit sharing amount of $14,670 is a reflection of the hard work and dedication UAW members bring toward the success of
Jeep
, Chrysler, Dodge and RAM sales," UAW Vice President Cindy Estrada said in a statement on Wednesday.
Estrada said the union's bargaining team had "fought hard for an enhanced profit sharing formula that more fairly distributed profit earnings based on the company's unique structure."
She added: "UAW Stellantis members are proud of the product they create every day especially during challenging environments over the past two years. We continue to make sure that this dedication in the face of pandemic and unforeseen parts shortages is recognized properly."
Stellantis announced on Wednesday that it made $15.2 billion (13.4 billion euros) in its first year after it was formed in the merger.
The automaker says it will distribute $2.2 billion (1.9 billion euros) in total as employee benefits for 2021, a figure that the company says is a 70 percent increase over the cumulative amount provided by its legacy companies.
"Employees are the heart of Stellantis. It is thanks to their continued focus on execution and excellence that we were able to achieve record results in our first year as Stellantis," Stellantis CEO Carlos Tavares said in a statement.
Tavares added: "Every Stellantis employee took on an extraordinary task in 2021 of combining two automakers while facing serious external challenges. Our goal is that all employees benefit from the company's profitable growth. We are pleased to reward and thank our team members for their tireless commitment."